On November 17th (Saturday) took place a long-awaited event: An Café's first show in Marseille! So, after many adventures and other pitfalls, your favorite team Yen Zero Media got you an interview with this band. The members were very nice and grateful to all their fans!

Zero Yen: Hello, nice to meet you! Can you introduce yourselves to our readers who may not  know you yet?
Miku : Hi! My name is Miku, I'm the singer.
Kanon : Nice to meet you, I am Kanon on bass.
Takuya: Takuya on guitar! Hello!
Teruki: Hello, I'm the drummer, Teruki.
Yuuki: And I'm Yuuki on keyboard!
ZY: The band was created in 2003, how did you get this idea? And how did you come up with the name of the band?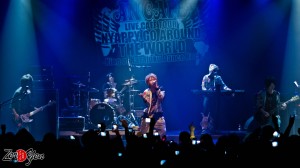 Miku: At the beginning, we did not really know how to call ourselves. This was Bou (note: former founding member and guitarist), a horse-racing fan, who wanted to call the band with a name that had to do with Manhattan Cafe, one of his favorite horses. Although Athletic and Manhattan Cafe became two potential names for the group and not knowing what Athletic Cafe meant, we decided to check the meaning in the dictionary. Near Athletic, we saw the word Antique and we shouted « Oh yes Antique Cafe! It sounds good! Let's use that! ».
ZY: After the departure of Bou, wasn't it difficult to recruit new members? And to get used to the new formation?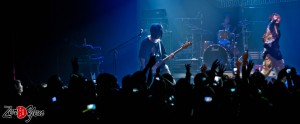 Miku: It was difficult because Bou was a really good guitarist. We visited many small venues in and around Tokyo in search of a musician as good as Bou, it was very very hard! « 
ZY: The Live café 2010 king Harajuku dance rock Ikinarki Nyappy legend on January 4th 2010 officially set the beginning of a previously announced break in 2009: what were your impressions after the show?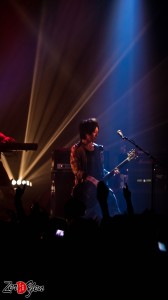 Miku: Playing at the Budokan (note: the Nippon Budokan is a large venue that hosts sports and music-related events, the Beatles performed there, for example!) For me, it was a dream come true and the fulfillment of a goal that I was eager to reach. This wonderful concert marked, I think, also a new beginning for us.
Teruki: At the time, I did not really know what to do, I did not really feel like I wanted to do anything. I spent a lot of time in Akihabara playing video games! It was not very interesting! (laughs)
Yuuki: It was really a strange feeling because it was a great adventure and I missed the group already! I must say that we were together all the time. After the concert, we were busy with other projects, more personal ones.
Kanon: During this break, I had to think about what I wanted to do. I wanted to evolve and get better at what I was doing and also work on my own compositions.
Takuya: I wanted to get into J-Pop but this was not possible. No music of this genre was released after all.
ZY: You are making a come-back this year! Many personal projects were developed during the previous break, what were they about?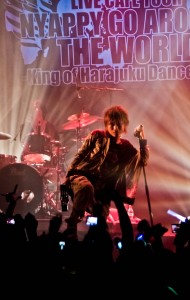 An Cafe: There has been a lot! (laughs)
Yuuki: I have played in other bands and did what I wanted to do and so show the world my other artistic abilities.
Miku: Having less pressure and more time allowed me to sing in another band and enjoy some independence.
Teruki: I worked on other things but it is comfortable to be back with An Cafe, I feel at home. I can easily talk with the other members and be myself.
Takuya: For me, there is really no difference when I play with this or that group so I worked with other formations as well.
ZY: Amazing Blue is the main focus of your return. How do you feel about that?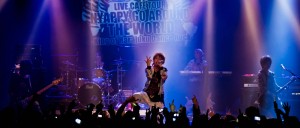 Miku: I wanted to do something different for this song, which is the first single from an upcoming album. It was somewhat difficult but we have put all our hearts into it.
ZY: After the first two live shows, the Ancafesta'12[Summer Dive], you are currently touring around the world. This marks your long-awaited come-back, along with your mini-album Amazing blue. Are you excited to see your fans again?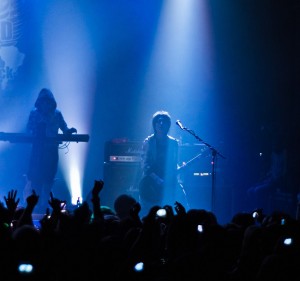 Kanon: We are truly grateful to our fans who have remained loyal and present throughout the tour. They've waited for these concerts for quite some time. Being back on the road in different cities and meet our fans again, we all feel a huge gratitude towards them!
ZY: What are the best memories from your recent shows?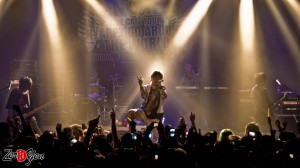 Teruki: I remember that, in Poland, the audience did something great: they all brought a red item like a scarf or a piece of paper (something we usually only see in Japan). I was very impressed when I got on stage!
Miku: In St. Petersburg, Russia, when we were playing the last song of the concert, « Smile Ichiban Ii ♀ (スマイル 一番 イイ ♀), fans had prepared a big surprise for us: it was a huge white banner with a message written in Japanese that they held at arm's length above their heads. I was very impressed and touched by this gesture.
ZY: You travel all around the world very often. Can you tell us what the big difference is between the Japanese and the international fans?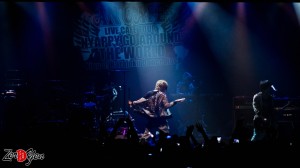 Teruki: Before our break, I used to find overseas fans more enthusiastic than the Japanese ones. But since the « Summer Dive » in Japan, our Japanese fans became as much excited as them because they had to wait such a long time. The reaction was the same with our international fans.
ZY: It's your first show in Marseille, how do you feel about it?
Takuya: It is a pleasure to be here! Doing two concerts in France and meet our fans! It's great to play here!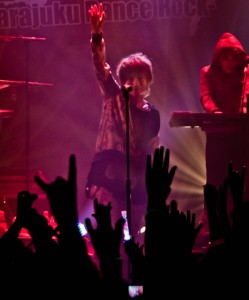 ZY: Do you have a special message for your French fans ?
An Cafe (unanimous): Thank you for everything! We're already looking forward to coming back here as soon as possible!
ZY: Thank you and good concert!
An Cafe: Thank you very much! See you soon!
– English version by Laurie & Ghis