It's a new year and here comes a new tour for our duo from Tokyo! Here's a live report of the Haruka to Miyuki (ハルカトミユキ) LIVE TOUR 2016 « LIFE ».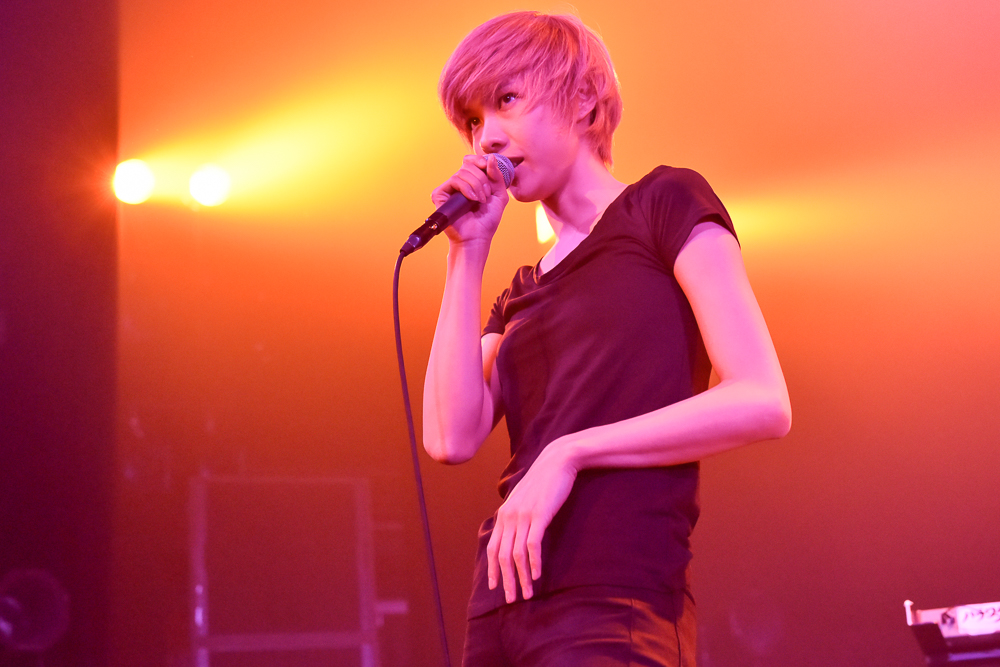 This LIVE TOUR 2016 « LIFE » took place in Tokyo on February 6th (Akasaka BLITZ), in Osaka on February 20th (Umeda AKASO) and in Nagoya on February 21st (APOLLO BASE). More shows have been announced for September and should be a great end to this tour!
These 3 venues had different capacities: 1300 people for the BLITZ, 700 for the Umeda AKASO and I'd say 300 to 400 (estimate) for the APOLLO BASE. Let's get things straight right away: my favorite was the last one because it was a much more intimate experience.
This live report will cover all dates since the setlist was the same. However, I'd like to note that the last show (the one in Nagoya) was absolutely insane! They were on fire on stage and I can tell you that this evening was a memorable one during the 21 songs performed that night (19 plus 2 for the encore)!
Setlist
1/ 恋は魔法さ (Koi wa Maho sa)
2/ 絶望ごっこ (Zetsubou Gokko)
3/ シアノタイプ (Cyano Type)
4/ マネキン (Mannequin)
5/ バッドエンドの続きを (Bad End no Tsuzuki wo)
6/ new moon
7/ September
8/ 肯定する (Koutei Suru)
9/ 青い夜更け (Aoi Yufuke)
10/ Vanilla
11/ 世界 (Sekai)
12/ ワールドワイドウエブは死んでる (World Wide Web wa Shinderu)
13/ ニュートンの林檎 (Newton no Ringo)
14/ プラスチック・メトロ (Plastic Metro)
15/ 振り出しに戻る (Furidashi ni Modoru)
16/ 嘘ツキ (Usotsuki)
17/ 宇宙を泳ぐ舟 (Sora wo Oyogu Fune)
18/ tonight
19/ 火の鳥 (Hi no Tori)
Encore
20/ ドライアイス (Dry Ice)
21/ LIFE
As you can see, this setlist was somehow all about the newer songs but we were also treated to the classics from the band.
This time and unlike the Sekai Tour, it all starts quietly with their latest single Koi wa Maho sa: dimmed lights and Haruka alone with her acoustic guitar for an intimate atmosphere. A simple but very effective beginning.
Next is a never-heard-before version of Zetsubou Gokko: half acoustic and half rock, it definitely takes us smoothly to a more upbeat part of the show. The intro is of course Miyuki's doing with her keyboards and breathes a new life into the song.
The next 3 songs (Cyano Type, Mannequin and Bad End no Tsuzuki wo) are all about pure rock and man, this feels good! Guitars are loud and drums kick ass! Miyuki is at it again with her keyboards and Haruka graces us with impeccable vocals. Bad End is especially impressive! Our ears are having a rough time (it's LOUD!) but it's so good we can't help asking for more!
Back to a more acoustic tone with new moon, as announced by Haruka herself. It sounds like Zetsubou Gokko with a mix of rock and acoustic styles. If you're familiar with the song, after hearing the live version, you will realize that the studio one was good but not THAT good. It's actually a general feeling I get from Haruka to Miyuki's shows: the tracks are sublime on stage and to me, this is how great artists should sound like when performing. I rest my case.
September is another voluptuous moment and it's a welcome one so we can rest for a bit before what's coming next. Probably one of the most underestimated song from the LIFE E.P. but it's actually a very powerful one on stage, thanks to a great bass presence.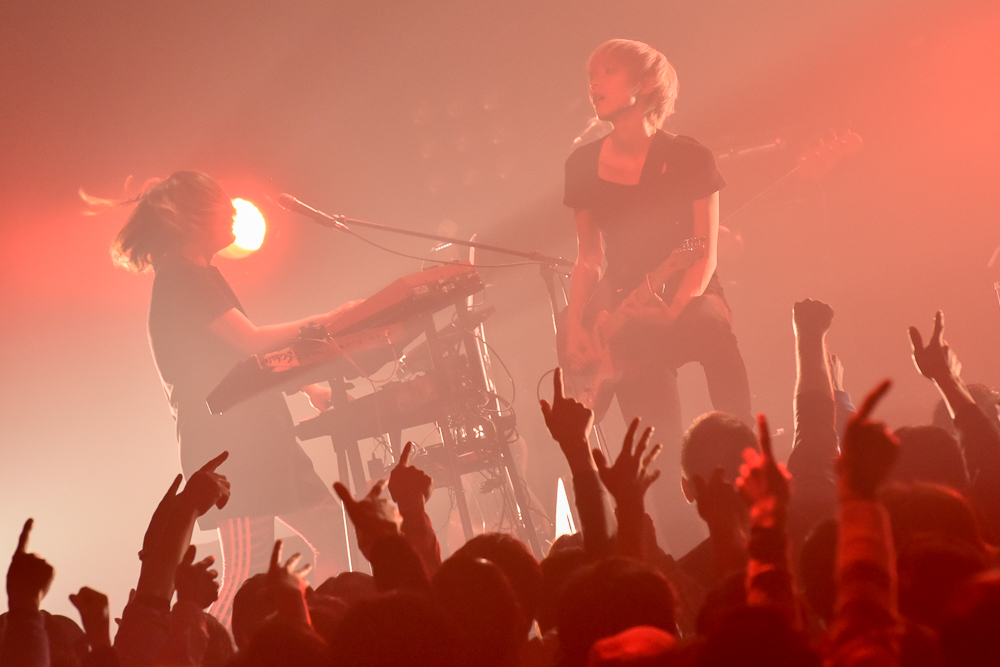 Things get a little more upbeat with Koutei Suru and Haruka's great rendition with her crystal-sounding vocals. If that a cappella intro doesn't give you the chills, I don't know what I can do for you anymore…
Back to pure rock with Aoi Yufuke. It's hard to describe what this song makes me feel when sung live. It's such a powerful track! You've heard the studio version? On stage, it's just 10 times better and this is definitely the ultimate version of Aoi Yufuke. Simply stunning.
Ah, this keyboard intro that makes you tingly all over. No doubt, this is Vanilla, one of the band's first songs. Soft and energetic at the same time, Vanilla is what Haruka to Miyuki are all about. A very emblematic track that I will never get tired of listening to…
Sekai. Once again, the live performance of this song is the ultimate version: the way the guitars sound, Haruka's voice, the « pa pa pa pa la laaa » sung by the fans. Given how the audience reacted after the first few notes, it's definitely one of their favorite tunes. I completely agree with that. I've been really enjoying the rock edge that all tracks have on stage. And I'm usually more of a pop person. Go figure…
Next is World Wide Web wa Shinderu, which is one of the most recent singles from the band. The beginning is really catchy with a killer bass and drums. This is some great stuff from Haruka to Miyuki again, Miyuki who's inviting all of us to clap our hands on a regular basis. And we just do it! That's quite a nice connection there between the artists and their audience.
Newton no Ringo, Newton no Ringo, Newton no Ringo ! This song is really dear to my heart: it was because of it that I decided to purchase my first CD of the duo 3 years ago. It's been 3 years already! Like Vanilla, it's considered a classic for the fans. I'm not sure what more I can add about it, my only advice: buy the limited edition of LIFE that includes the bonus live DVD and watch it. You'll thank me later!
Plastic Metro is certainly one track that grew on me over time. I liked it as a studio song but the recent live versions I heard made me love it. It's quite an unusual and very original song. And it's no surprise Haruka and Miyuki are like hypnotized while playing it: I'll call that state the « zombie mode »! (wink wink to the changed lyrics on stage) Small anecdote: Miyuki was crazy during this song in Nagoya and almost stage dove in the middle of it! She almost ended up in my arms (I was front row) and I gotta admit it isn't a bad memory at all!!

With Furidashi ni Modoru, Miyuki is once again the focus here! This title is all about keyboards, especially its intro. While being quite a short song (only 2 minutes and 23 seconds), it can get very demanding for Haruka vocally but also for the audience physically (it's very upbeat!).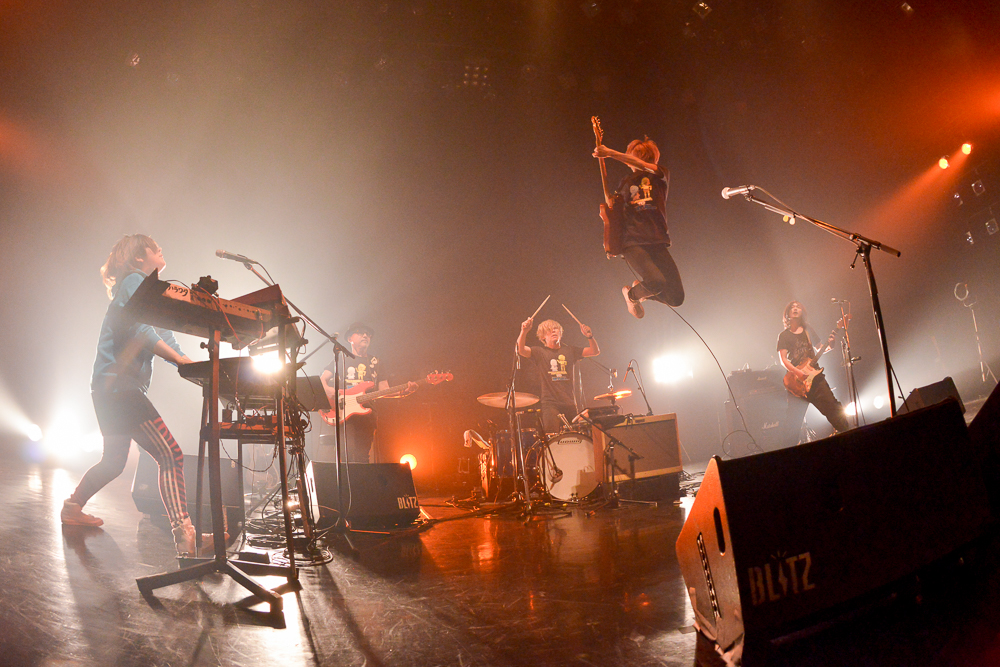 I have to confess that I've become an addict to the live performance of Usotsuki. The version played here is longer than the original studio one featured on the Sekai mini album and thank goodness for that! We jump, we sing, we sweat in the process, we're just having fun! That's what Usotsuki is like at a Haruka to Miyuki's show! One more awesome song you can't miss and that you should listen to right away, over and over again!
Sora wo Oyogu Fune, last July's single, is absolutely delicious on stage. I love the intro with these keyboard notes that slowly take us to the song's beat and drums. More lively and less electronic, this version is a pleasant surprise.
It's almost the end of the show but this part won't be quiet, oh no! With tonight, we're tempted to dance and scream and jump once again on the dancefloor! A long, hypnotic, fun song with a second stage dive from Miyuki on the other side of the stage where she lands in someone's arms. Lucky ones! The whole venue is on fire and the band and its audience have become just one at this point. I can hardly find the words to describe this atmosphere…
The last title from the official setlist (without the encore) is Hi no Tori. Honestly, the studio version was so good that I was expecting nothing but great things from this one on stage. In one word: incredible! This song has a certain je-ne-sais-quoi (I-don't-know-what) that is just toxic. And what about that outro with Haruka pounding fiercely on the drums to the rhythm! I'm psyched during this song and will need a few extra minutes to calm myself down when it ends. Just amazing.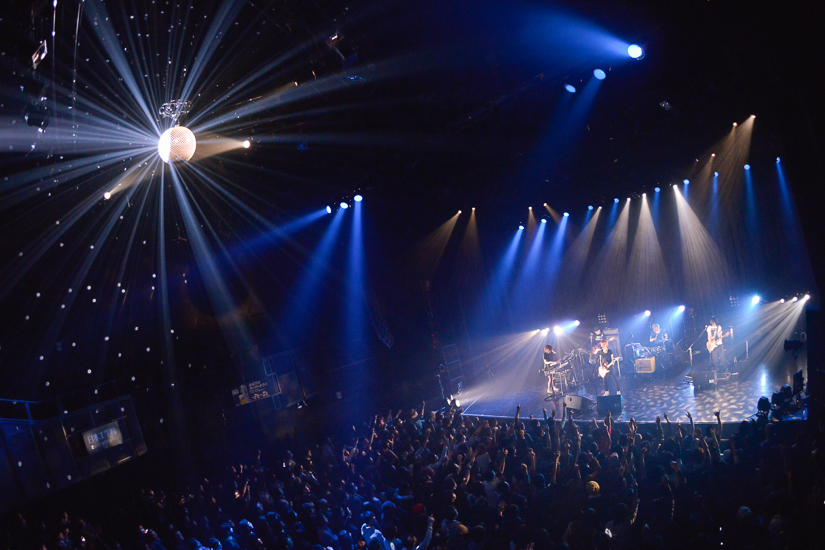 After several minutes of clapping, the band is back on stage for the « ancoru » (encore). Dry Ice and LIFE will close tonight's show. Dry Ice is always impeccable and gives us the opportunity to listen to Miyuki's really nice background vocals (which seem rarer in the band's latest songs in my opinion). LIFE is the very last song and ends the concert in a very emotional way.
The girls and their musicians thank us, say goodbye and disappear backstage. It's officially over! A little teary-eyed, I'm watching the venue getting empty and fan club members getting their tickets for September's final show (that's my guess), which are handed to them by Haruka and Miyuki in person.
I gotta say that they are now very confident on stage and I'm glad I witnessed them grow like this. Miyuki is always the happy/fun one and doesn't hesitate to dance and jump around. Haruka moves around more and gives more energy to her singing and her playing the guitar. I feel like they are becoming quite a great rock/folk band! Moreover, I've noticed that they are closer than ever on stage, like on Hi no Tori where they were looking at each other in the eyes with wide smiles! So nice to see!
Merch for this tour is really cool with t-shirts, hoodies and mugs with the band's picture drawn on it but highly influenced by Star Wars! You can find HarukaPO and R2Miyuki on them! (well, it's the silly nickname I came up with for them!) I couldn't resist and bought a bunch of stuff. My credit card didn't approve. Oh well…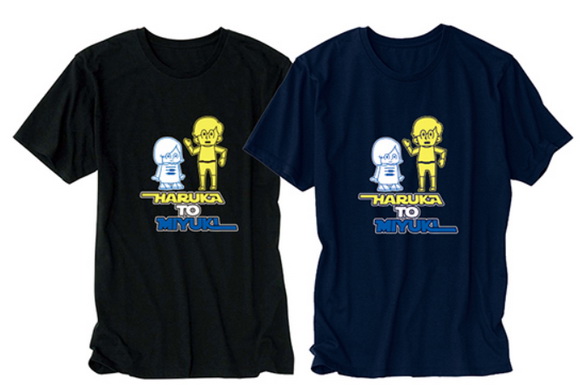 As always, I was very lucky (and believe me, I will never thank them enough for this!) to be able to talk to them privately after the show. I got to say goodbye and see you soon. This moment is the one I'm always waiting for but I also kind of dislike it because it means the tour/show is now over. Being able to share these few minutes with artists you like, it's always quite an emotional time for me and, even though I've met them several times by now, there's always some stress inside of me that makes me lose my words…
But it's now time to leave the venue and let them go back to their life. What about me? I'm just walking around in these Japanese streets, my head still in the clouds and my heart full of a mix of love, sadness and hope to see them again very soon…
***********************************
Haruka to Miyuki online
Official Site
Official Twitter / Haruka / Miyuki
Official Facebook page
Haruka to Miyuki on Zero Yen (French)
***********************************
Thank yous

A huge thank you to Miyuki, Haruka, their manager Yoko and their staff for being so nice to me. Live photos provided by Sony Music Associated Records (photos by Kazumichi Kokei).
みんなさん、どうもありがとうございました!