A few weeks ago in Tokyo, I was lucky enough to sit down with the band FAKY and ask them a few questions.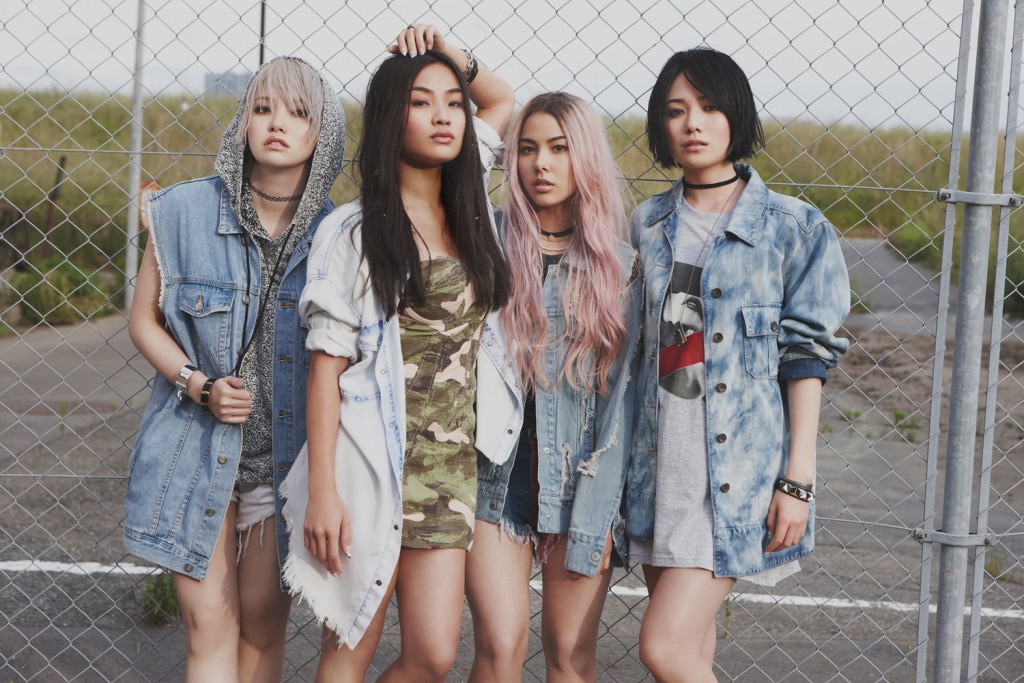 Zero Yen (ZY): Hello FAKY, it's a pleasure to have you with us today! Could you please introduce yourselves to our readers?
Anna: Hi, my name is Anna, I'm 23. I'm the oldest in the band and I'm the leader of FAKY. I was born in New Zealand, I grew up in Hong Kong and the Philippines. I came back to Japan when I was 10. I was also in a musical when I was 11 years old, that's when I started music.
Lil' Fang: I'm Lil' Fang, 22 years old. I used to sing as a solo artist in clubs before I joined FAKY. My passion is singing, I love it.
Mikako: I'm Mikako and I'm 21. I'm from Fukuoka, which is on Kyushu island. I came to Tokyo 3 years ago for FAKY. I love fashion.
Anna: Yes, she's the most fashionable of us!
Akina: My name is Akina, I'm 16 years old and I'm the newest member of FAKY. I was born in California but due to my dad's job, I moved around a lot growing up: Arizona, Florida, etc. I decided to move to Japan about one year ago to join FAKY. I love dancing and singing.
ZY: I'm sure a lot of our readers don't know what FAKY means. Can you please tell us?
FAKY: It comes from the word fake, obviously. We chose it because we wanted to challenge ourselves to be real, to bring something legit to the Japanese music industry.
ZY: Somehow, I feel like comparing you to a band like the Spice Girls! Don't worry, it's a compliment because you seem like a strong and confident girls band! I feel like you have the same message for young girls everywhere. What would you like to tell them? Anything for the guys?
Akina: Well, we all have different ages so the message may be different for each of us. For me, I want to inspire people my age. It's quite a hard time because you don't really know what you want to do with your life. I want them to choose something that makes them happy.
Anna: For both girls and guys, I would like to tell them to be confident in their own skin. It's OK to be different, we're all different with our own personalities. I think this is important for younger people but also for people our age! *laughs*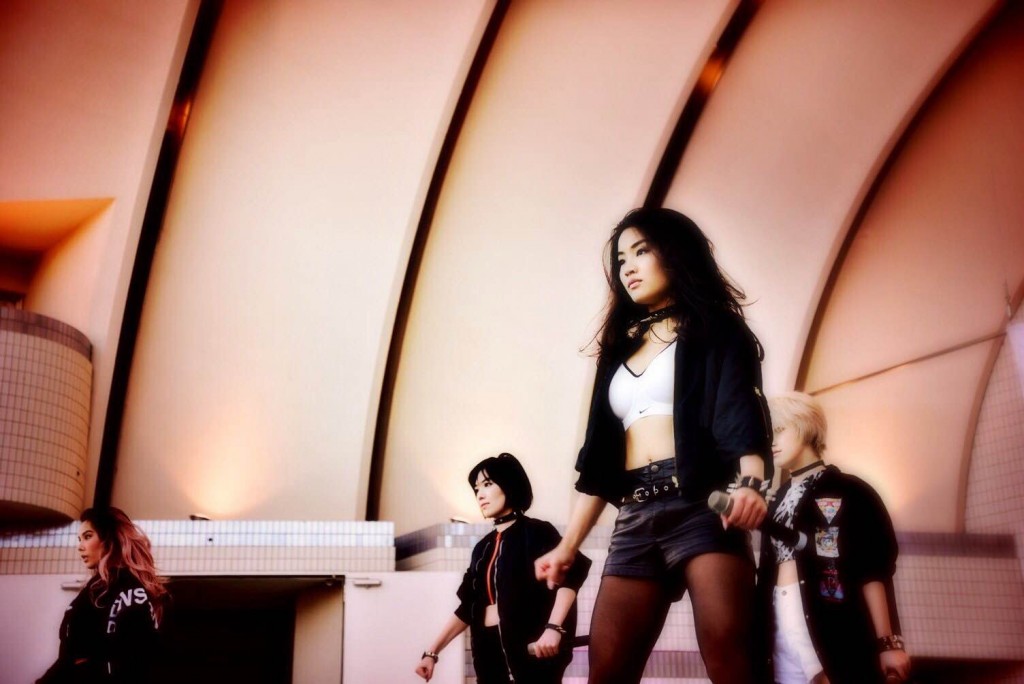 ZY: I think it's really interesting that FAKY is both aiming at Eastern and Western audiences since you can sing in Japanese and English. Are you surprised that people who don't speak or understand Japanese listen to your songs?
FAKY: Yeah, it's really surprising! We obviously would love to go international. When we receive comments from France, Singapore or Turkey, we're thinking « how did you guys find out about us?! ». It's really interesting and amazing to get this from all over the world.
ZY: Do you think you will collaborate with Western artists in the future?
FAKY: That would be amazing! We really hope so.
ZY: Speaking of collaboration, you recently released a single with the band FEMM called No boyfriend. Can you tell us more about it?

FAKY: It's originally an EDM song released in 2014 by Sak Noel, who is a Spanish DJ and producer. We made a Japanese version of it. Obviously, the video for it is also very Japanese compared to the original as it was shot in a karaoke room. We're showing off Tokyo fashion with the cute girls from FEMM who are wearing school uniforms.
The lyrics were also changed: we added very fashionable expressions like tera kawaii (テラかわいい) and choi sexy (ちょいセクシー). Choi (ちょい, little) and tera (テラ, so much) are words mostly used by young girls and older people probably don't even know they exist! *laughs*
ZY: I really like the fact that you're embracing the EDM genre. I remember that Better Without You had some amazing remixes like the REMO-CON one. Can you see yourselves working with some French DJs/producers one day? You know we have great ones like Daft Punk and more!
FAKY: Oh my God, yes! Daft Punk are amazing! Please introduce us to them!
ZY: I wish but unfortunately, Zero Yen is not that famous! *laughs*
ZY: Since we're talking about music genres, what do you like to listen to? Any artists who inspire you?
Lil' Fang: I like twenty one pilots, I think they are pretty famous in the US right now. They are an alternative band, they use video games and acoustic sounds in their songs.
Akina: I usually have two different moods, music-wise. The first one is very chill so I listen to R&B artists like The Weeknd and BANKS. My other mood is more of an acoustic, sad kind of music like Ed Sheeran or Adele.
Mikako: I listen mostly to Japanese music but there's a Swedish artist I really like right now called Zara Larsson.

Anna: I listen to Sam Smith, The Weeknd, Jess Glynne. I love people with unique voices and soothing music.
FAKY: We're also always looking for new music to inspire us.
ZY: Now, I would like to talk about your origins. I know Anna grew up in New Zealand and Akina is from California. What was it like for you growing up abroad or as a half-Japanese person? Was it difficult?
Akina: I never had a hard time growing up being mixed. Most of the time, mixed people are stereotyped and people always try to think about the right group to fit them into. But it wasn't like that at all for me. I try my best to make friends and not judge people by the way they look but by who they are inside. I hope that people would do that to me too.
Anna: Me too, I don't think I've ever struggled or anything by being somewhat different. I feel like I've gotten used to being a little different from everyone. I don't try to blend in. I'm just being myself and I'm okay with that.
ZY: Mikako and Lil' Fang are both Japanese. Do you feel like it's challenging for you to learn English? What do you like or don't like about it?

Mikako: It's really difficult to catch the right pronunciation, I'm always trying to practice but it's hard. When we just started FAKY, I didn't understand at all but over time, I got used to listening to English. When people are speaking now, I kind of understand what they're speaking about. So gradually, I'm getting there.
Lil' Fang: It's the same for me. Japanese and English use very different sounds so I'm trying to get used to that. I think I'm really good at listening and I always watch TV shows in English. Sometimes, I can understand an English conversation but I reply in Japanese! *laughs*
ZY: Let's focus on the music now: late 2015, the new FAKY unveiled 3 new songs: Afterglow, You and Candy after several months of silence. How did it feel like being back?

FAKY: After a gap year, everything feels very unreal. It's hard to process the fact that we are actually back and people are still listening to our music. But it's like starting something new for us, a new chapter of FAKY. We're really happy to be back on stage!
Akina: It's a little different for me, being a new member. I moved here in January last year and I got to know everyone. The girls and I trained for almost this entire year. And suddenly, you come out and it's such a new thing. But the fans were so nice and welcoming! I didn't expect it and was very surprised in a good way.
ZY: The new video for You is really nice and simple. What was the idea behind it?
FAKY: Basically, we really wanted this music video to represent Tokyo in general, like the city night lights. We also had the dancers with the fox masks, they looked very Japanese as the fox is considered a traditional animal here. Our fashion in the PV is what's trending right now over here, it's 100% Tokyo style. This is pretty much our all-time theme.
ZY: Yes, I noticed you chose places like Shibuya and Harajuku which are very fashionable.
FAKY: Yes, exactly!
ZY: So what's in store for you girls in 2016? A new album? A new tour?
FAKY: New songs will definitely be coming soon. We feel like it's the year we can go out there and meet our fans more often. So far, we've only done a few shows in Tokyo so we're looking forward to going to other prefectures in Japan.
ZY: Obviously, we would love to see you perform in France! Are there any plans for you to come visit?
FAKY: Not at the moment but if there's an opportunity, we would really love to go to France!
ZY: By the way, have you been to France before?
FAKY: No…
ZY: What do you like or know about our country?
FAKY: We don't know much about France but we think French is a really sexy language.
Anna: I would love to learn it!
ZY: Can you speak some French?
Anna: Hmmm… Je m'appelle Anna, je suis japonaise. Bonjour. Au revoir? Je t'aime! (in French). That's all I know. Can you teach us some words? Is there anything like good luck in French?
ZY: Yes, good luck in French is bonne chance.
FAKY: Bonne chance! That's cool.
ZY: Can you tell us something about you? Like what are your hobbies?
Mikako: I like seeing my friends, watching TV and shopping by myself. I like having some alone time.
Lil' Fang: I like Japanese anime like Evangelion, Shingeki no Kyojin (Attack on Titan) and Tokyo Ghoul. I would start watching them anywhere on my phone.
ZY: Do you know One-Punch Man?
Lil' Fang: Oh yes, it's very funny! *laughs*
Anna: Lil' Fang can do the best anime voices too!
ZY: Oh really, can you do one?
Lil' Fang: Hi, I'm Lil' Fang! (in English and with a cute high-pitched anime voice) *laughs*
ZY: That was really good!
Akina: My hobbies really are singing and dancing but when I have some free time, I like to stay home and watch movies all day. I like to hang out with my sister as well, we're really close.
Anna: Same here, I like staying home and watching movies. I love my sister, she's my best friend. I also love my dog! I like taking pictures as well, I always walk around with my camera. Obviously, I have my phone but I love using one of those DSLR cameras.
ZY: So this is my last question: does FAKY have a special message to their fans in France (and Europe)?
FAKY: Thank you so much for supporting us from halfway around the world! We haven't been to France yet but we would love to go and see you guys one day. We hope our French fan base will grow and expand. Please spread the word about us!
Anna: JE T'AIME!
ZY: Thank you very much! Good luck and see you soon!
***********************************
FAKY online
Official site
Official Twitter / Anna / Akina / Mikako / Lil' Fang
Official Facebook page
YouTube channel
Articles on Zero Yen Media
***********************************
Thank yous
A big thank you to Anna, Akina, Mikako and Lil' Fang! You girls were great during this interview. Thank you to FAKY's management as well for giving me the opportunity to meet them and write this article.