Once again, the Tokyo-based all girl band Chelsy was nice enough to answer some of our questions a couple of months ago.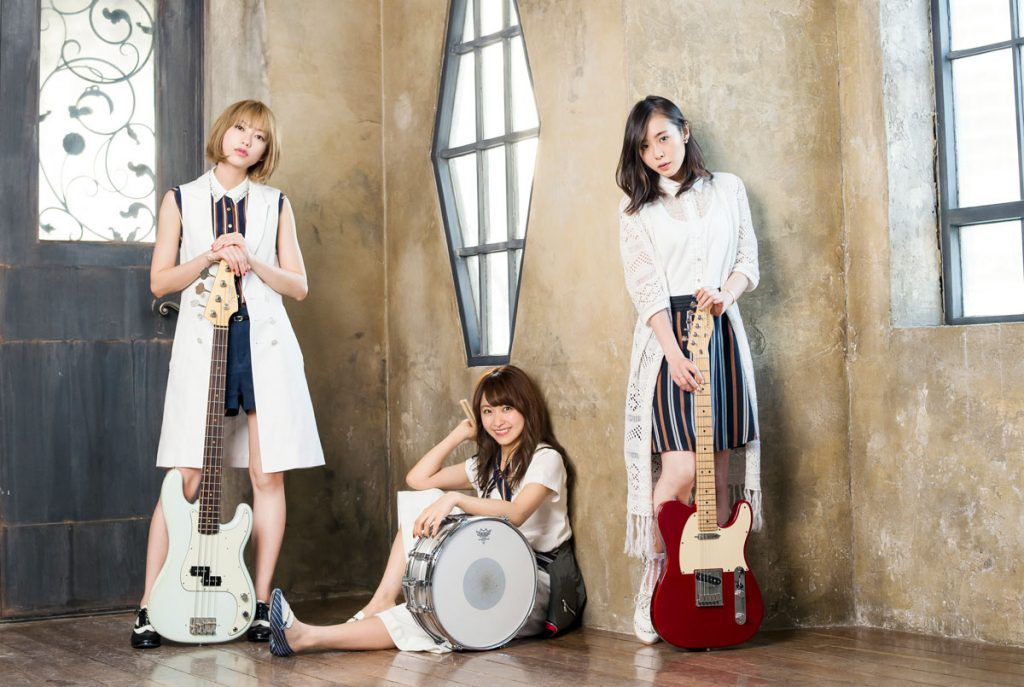 Zero Yen (ZY): Hello Chelsy! It's a pleasure to see you again for a second interview! Last September, your 4th single I miss you was available. Do you mind explaining the lyrics please?
Chelsy: This is a story about a love lost but it starts from a place where the two persons are living together. When things don't work out, you can't help but drag this feeling, like you're stuck on that love. The song was composed thinking it's important to pull yourself out of that situation.
ZY: I'm following all of you on several social media (Twitter, Facebook and Instagram) and I noticed you went to Mexico in November! I think it was for a convention called Expo TNT. Can you tell us more about it?
Chelsy: This was our first performance abroad. We were really surprised to see, at the signing, some fans that lined up to meet us. We felt that the way the Mexican audiences were very different from the Japanese audiences : they got very excited about our shows.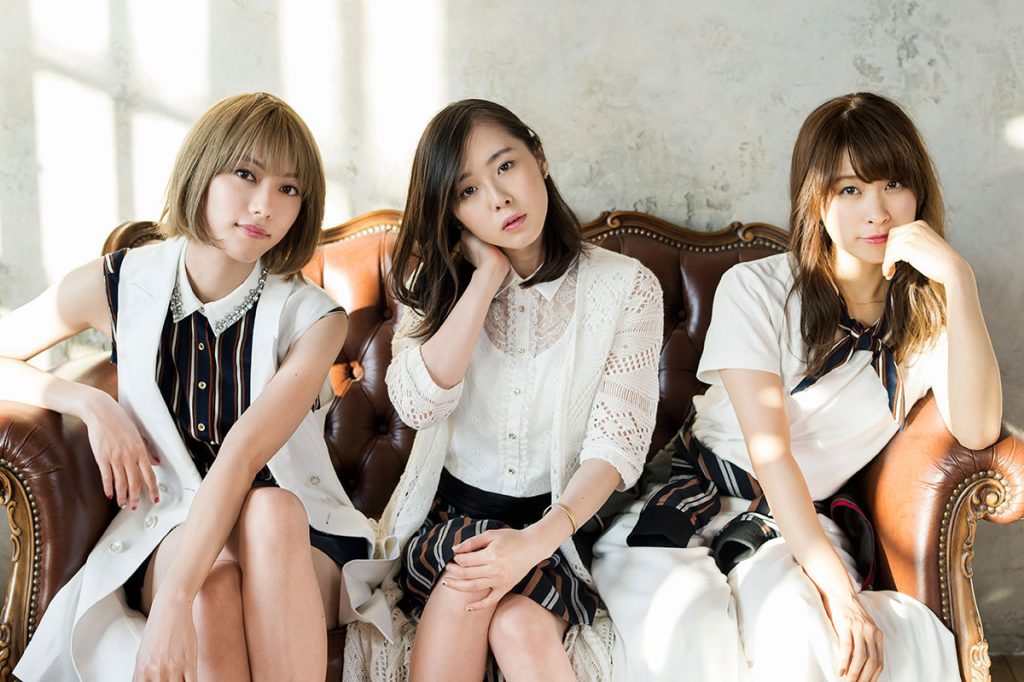 ZY: Well, you partially answered my next question! (laughs) I know you played several shows there. How was the audience compared to your Japanese fans?
Chelsy: We noticed in Mexico that the audience was making hearts with their hands. We don't really have that sort of ritual in Japan. That was very noticeable. We were also really moved that the audience would sing along with us. 
ZY: In Japanese? That's impressive!
Chelsy: The audience was very familiar with the anime culture, especially the show Ao Haru Ride (Chelsy wrote the song « I Will » that was featured in the anime). So they knew some Japanese because of that.
ZY: When you were there, did you have enough free time to do some sightseeing? If so, where did you go?
Chelsy: We went to visit Teotihuacan where the famous Mesoamerican pyramids are, just outside of Mexico City. We also went to souvenir shops for our family and friends (laughs).
ZY: Which places do you recommend?
Chelsy: The very ancient site of Teotihuacan was really amazing, we never had the chance to climb pyramids before. It really was an incredible experience for us. The three of us got matching hats there, you can get them for very cheap. We had a lot of fun!
ZY: Yes, I think I saw a picture of you on Instagram with these hats! You were cute!
Chelsy: Oh, thank you!
ZY: I know AMI really loves food (laughs). What did you eat in Mexico? Anything you really enjoyed?
AMI: (laughs) The food was very spicy there, it made me a little nervous because I'm not really strong with spicy food in general. But by the time I left Mexico City, I really loved it! I especially liked the spicy burritos sold in convenient stores there.
ZY: What about you SHIZUKA and MIO?
SHIZUKA: There was a lot of food there compared to Japan. I got to try tacos and I realized Japanese tacos are very different from Mexican tacos: in Japan, the vegetables are the main part but in Mexico, it's all about the meat!
MIO: The nachos! They were so good, we had them every morning! (laughs) They had cottage cheese on top of them.
ZY: Back to the music, you announced a couple of days ago that your mini-album ESCAPE ON THE WEEKEND will be coming soon! Please tell us more about it! (this interview was done in February)

Chelsy: There will be 4 tracks on this mini-album. Aside from compiling songs we've been playing at our live shows, there will also be one extra song on it. We decided to go back to the basics when making this album, the way we first started music.
ZY: Any special edition planned for the release maybe?
Chelsy: The album will be just one disc this time.
ZY: And will there be a new PV (promotional video) as well? We miss seeing you on video!
Chelsy: Nothing is planned as of right now but there will be a live video for the song escape. (it was released a few weeks ago)
ZY: You know what would be great? One or several songs in English! Do you think this is something you would like to do?
Chelsy: We never really thought about it but come to think of it, all of our titles are in English. So maybe in the future? We'll think about it!
ZY: Maybe you would you like to collaborate with some French artists? Do you know any?
Chelsy: We don't exactly know the name of the bands but if we hear the songs, we'll probably recognize them.
ZY: I was lucky to attend your live show in Shibuya 2 days ago. I had a great time, it really was a great show! Can you share how you prepare yourselves for a big event like this one? Do you have any pre-show rituals?
Chelsy: We always decide on a theme for each show and the one for this show was hina matsuri (雛祭り), which is like a girls' festival. The decorations that were put up on the stage were based on this Holiday.
ZY: The intro video was a cool idea and I really enjoyed the making-of before the encore. Even though I didn't understand much, I still laughed out loud! Whose idea was it?
Chelsy: At this particular venue (Shibuya WWW), there was a very large screen behind the stage. Since it was easy to see any video, we decided altogether to make this movie. They even let us edit the video ourselves! It was AMI who had the privilege to edit this video.
ZY: AMI, did you also add the sound effects?
AMI: Yes, yes I did! (laughs)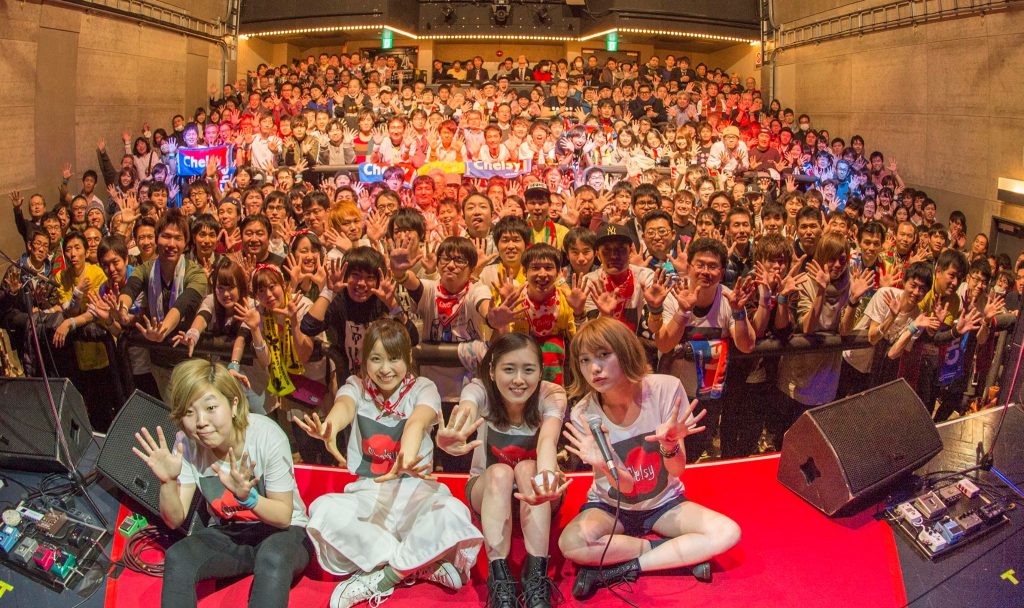 ZY: If I'm not mistaken, you played several songs I didn't know. I especially liked the new one, It's a small world, which you probably played live before.

Chelsy: It's actually the very first track on the mini-album ESCAPE ON THE WEEKEND. And it was the first time we played it live!
ZY: Oh I feel special!
Everyone: (laughs)
ZY: By the way, are there any plans to release a full concert on Blu-Ray or DVD?
Chelsy: We don't have any plans just yet but we do think that a Blu-Ray/DVD is the best way to see the live performances. So we hope we'll be able to release something like that in the future.
ZY: I know you are all very active on social media, especially Twitter and Instagram. What do you like to share with your fans?
Chelsy: We think it's very important that we feel close to our fans. So we try to share little moments from our daily lives. For example, anything we find really fun or interesting, even something that is delicious! We want to tell our fans « look, this is so good! ».
ZY: Let's talk about yourselves for a little bit now. I noticed MIO and SHIZUKA have new haircuts. You look very nice! Why did you decide to cut your hair?

SHIZUKA & MIO: We weren't thinking too deeply about it, we just wanted some change!
ZY: AMI, you have a ponytail on stage now!
AMI: Actually, it's better than I have a ponytail on stage because when I'm playing the drums, my hair doesn't get in the way!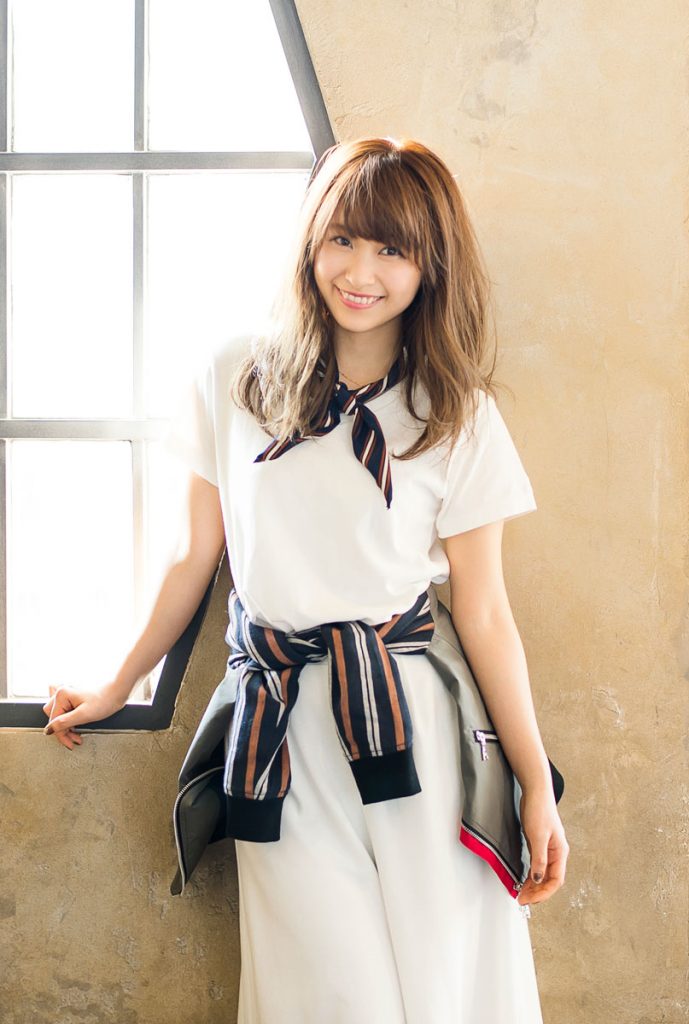 ZY: Do you like to travel by the way? What's your favorite place in Japan?

MIO: I really like Fukuoka because the food is really good.
SHIZUKA: I really like Osaka because the clothing styles are really bright and vivid. It really stands out, I enjoy it.
AMI: I really love onsen so Izu (in the Shizuoka prefecture) is my favorite.
ZY: What about outside of Japan?
Chelsy: Well, we've only been to Mexico for now! (laughs)
AMI: I want to go to Mont St-Michel!
ZY: Let's be a little more serious for a minute. I'm sure you heard about the horrible events that happened in Paris a few months ago. Can you share with us how you feel about them? I'm curious to hear how they were perceived from Japan and Japanese people.
Chelsy: Even in Japan, of course, we had a live news feed of the events. But at the same time, in Japan, we don't have as many immigrants as in France. We don't have that kind of conflict nearby. So although it was in real time, there was not a sense of reality for us in a way. It felt somewhat surreal to us.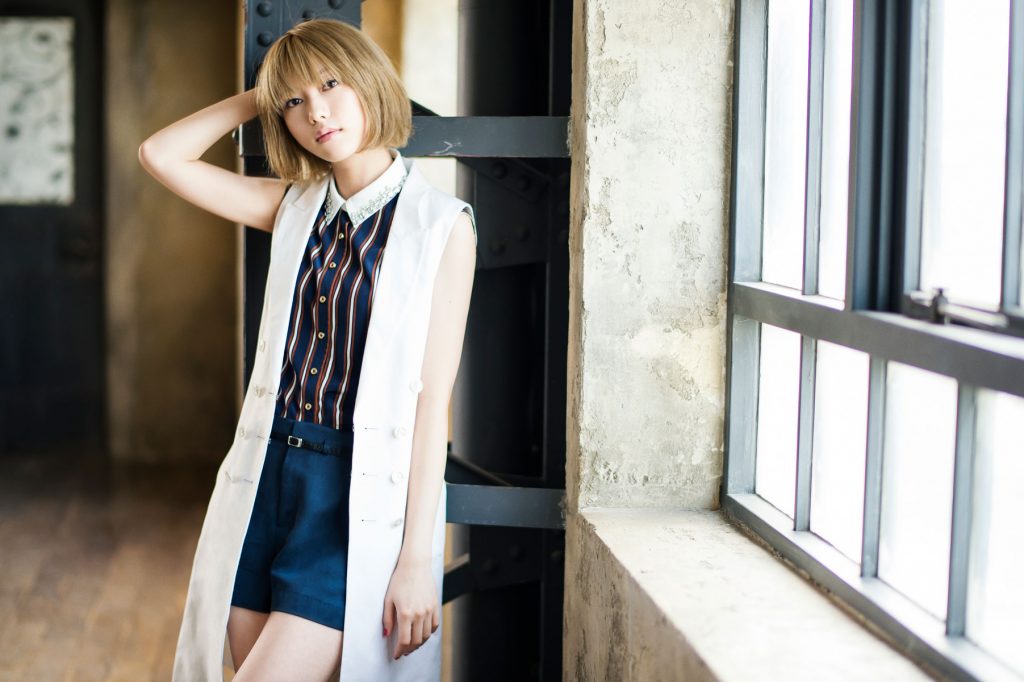 ZY: I would like to bring up a more fun topic now: food again if you don't mind (laughs). If you were to recommend a Japanese dish to our readers in France, which one(s) would it be?
AMI: I really love Chawanmushi (茶碗蒸し)! I would be really happy if people in France could try this dish. You can have it at a sushi restaurant. (Chawanmushi is like a steamed egg, kind of like a pudding but more savory, usually served with chicken, vegetables or shrimp)
MIO: I love soba, especially tororo soba (とろろそば) in the summertime. I could eat it every day! (tororo soba has tororo sauce poured on top of the noodles: tororo is a kind of yam/sweet potato. Tororo sauce can also include dashi, wasabi or green onions, depending on its preparation)
SHIZUKA: Ramen! Outside of Japan, people may think that ramen is a really fancy dish but in Japan, you can enjoy it very cheaply. So I hope people can try it.
ZY: I actually had my first ramen in Hokkaido a few days ago! It was really good but it was a lot of food to eat! (laughs)
Chelsy: (laughs)
ZY: As you probably remember, we are a French media from the south east of France. Have you heard of la Provence (our region)?

Chelsy: Yes, we've heard of la Provence!
ZY: We are quite famous for our lavender, our soap from Marseille, etc. Do you know any of these?
Chelsy: Yes, we do!
ZY: MIO, I remember you were studying French at your college. Do you still study it?

MIO: I studied for 2 years but recently, I haven't really kept it up. I still want to learn!
ZY: Can you please tell something to our readers in French that you remember?
MIO: Je suis chanteuse! (« I'm a singer », in French)
ZY: Alright, we're almost done here. Do you have any last words for us? Anything you want to tell our readers.
AMI: Even though we are very far away, we're very thankful that people can know about us. We'll try to become really big so we can come visit in France!
SHIZUKA: Up until last year, we've only performed in Japan but when we were in Mexico, we felt that it was such a different culture and it was so much fun! We would love to go to France someday too!
MIO: We think that music really is a universal language. Through music, people are able to communicate many things, even in Japanese. It's really amazing and it's not something that's so easy to do. So we would like to continue to do that in the future.
ZY: Thank you so much Chelsy for being with us once again! We hope to see you soon, maybe in France!
Chelsy: Thank you very much!
***********************************
Chelsy online
Official site
Official Twitter / AMI / MIO / SHIZUKA
Official Facebook page
YouTube channel (Honey Bee Studio)
Articles on Zero Yen Media (in French)
Buy Chelsy's music at CD Japan
***********************************
Thank yous
A big thank you to AMI, MIO and SHIZUKA for taking the time to do this interview. Thank you to their management as well. And last but not least, many thanks to Marika for translating during the interview. Much appreciated!
みなさんありがとございました!!